WELCOME TO LEADDELTA ONBOARDING
How to get started?
Hello fellow Delta,
We are thrilled to have you as a part of our growing community.
You got your LeadDelta subscription, and you must be wondering, how do I make the best of it?
We are here to help you. 🙌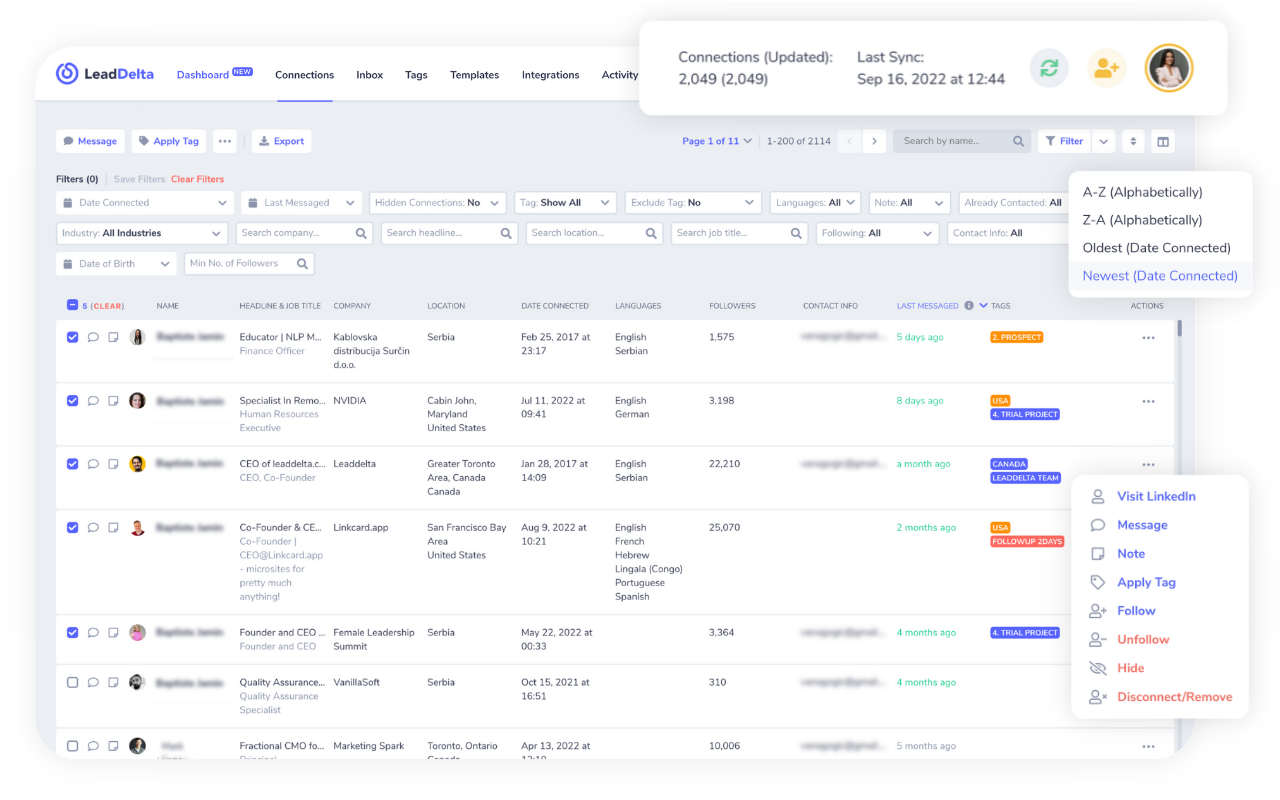 NEW: LEADDELTA WORKSPACES
A single workspace for your company's relationships
Everything you need to know about setting up and managing the Workspace 👉
STEP 1
Watch LeadDelta Tutorials
We have prepared 7 product tutorials to help you learn how to best utilize our Network Manager and grow your business results. Check out our playlist 👉
STEP 2
Need clarification? Read our manual
We decided to create this short manual to help you organize your LinkedIn connections and keep building meaningful relationships.
Here are 3 quick tips:
Sync vs Update

:
—Sync, syncs the latest state from LinkedIn to LeadDelta (i.e. NEW connections).
—Update, updates the latest data and can be manual or automatic. Learn more about it here.

Click on your profile picture inside your LeadDelta account and go to Settings to customize how many connections are updated daily.




Update impacts filters: the quality of LeadDelta filters is directly proportional to the % of connections updated. If at least 30% of your connections have the latest data you can start successfully applying filters.


Screen size: LeadDelta works best on 14" inch screens and above. The bigger the screen the more data you can fit in. Fun fact: some of our customers say that they would pay only because of that. Read on... 👇
Extension
LeadDelta is a Chrome Web Store Application (Extension or Plug-in) and it can be used on any Chromium-based browser.
Adding/ downloading the extension should be your starting point (if you haven't done that already).
Once it's added, pinning the extension would be a smart move- that way you can easily access your LeadDelta account.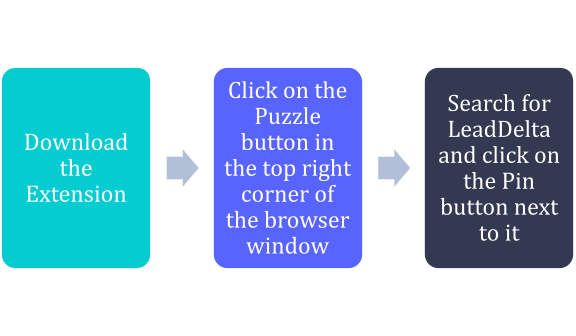 The Sign in/ Sign up page can be found once you open your LeadDelta extension.
Sign up: Enter your information- First and Last Name, email address, and generate the password.
Or
Sign in: Enter the credentials you've used to sign up for the account.
Sync
The first time you access your LeadDelta account, you need to initiate the sync by clicking on the green sync button at the top-right corner. At that point, you will notice that something is happening in the background and we will get the latest set of your connections. This process might take up to 5 minutes. Hang in there 😀

Sync button can be used to apply the latest changes in terms of your connections- every time you connect with someone new or decide to remove a connection from LI.
In the top right corner, you will have the timestamp of the latest sync.
However, by simply syncing the connections into LeadDelta you won't be able to access your connections' data, such as Company, Location, Contact info. That's when the automatic update steps in.
Update
Now that your connections are synced, the system will start updating them slowly, over a certain timeframe.
To comply with LinkedIn rules, we are keeping this process within the safe limits, every day the system will update 100 connections.
Click on your profile picture inside your LeadDelta account and go to Settings to customize how many connections are updated daily.

Depending on the number of connections, this process might take a few days.
You can keep track of the number of updated connections and progress in the top right corner.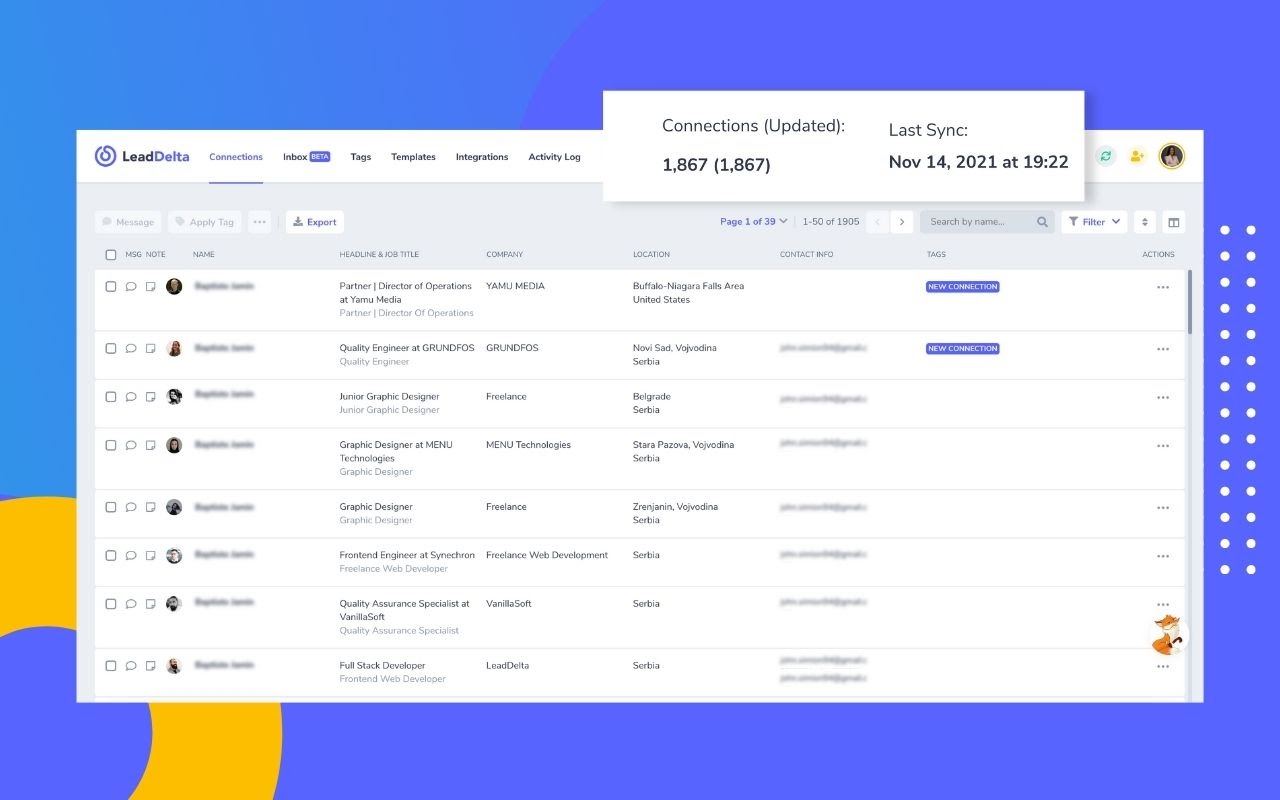 The two counters will show you the number of synced connections vs. the updated ones.
If you wish to speed up the update, make sure to open your LeadDelta account twice a day, or just leave it open in a Chrome tab.
You can also update individual connections manually when you need someone's contact info immediately. These manual updates count towards the daily limit.
You can read more about the update process in the following articles:
Auto-Update
Manual Update
Update means that you can access the additional connections' data, such as email address, phone number, etc.
To get the most out of your connections, waiting for the update process to finish is highly recommendable.
Dashboard
Going into detail with your network can drift you in the wrong direction or cause you to lose focus on the bigger target. The new dashboard gives a clear overview and lets you choose the proper focus and work on your network more efficiently.
No overload of information or unnecessarily complicated reports. Our Dashboard has seven sections: Connections, Followers, Following, Number of Tags, Untagged Connections, Messaged Connections, and Connections with Notes.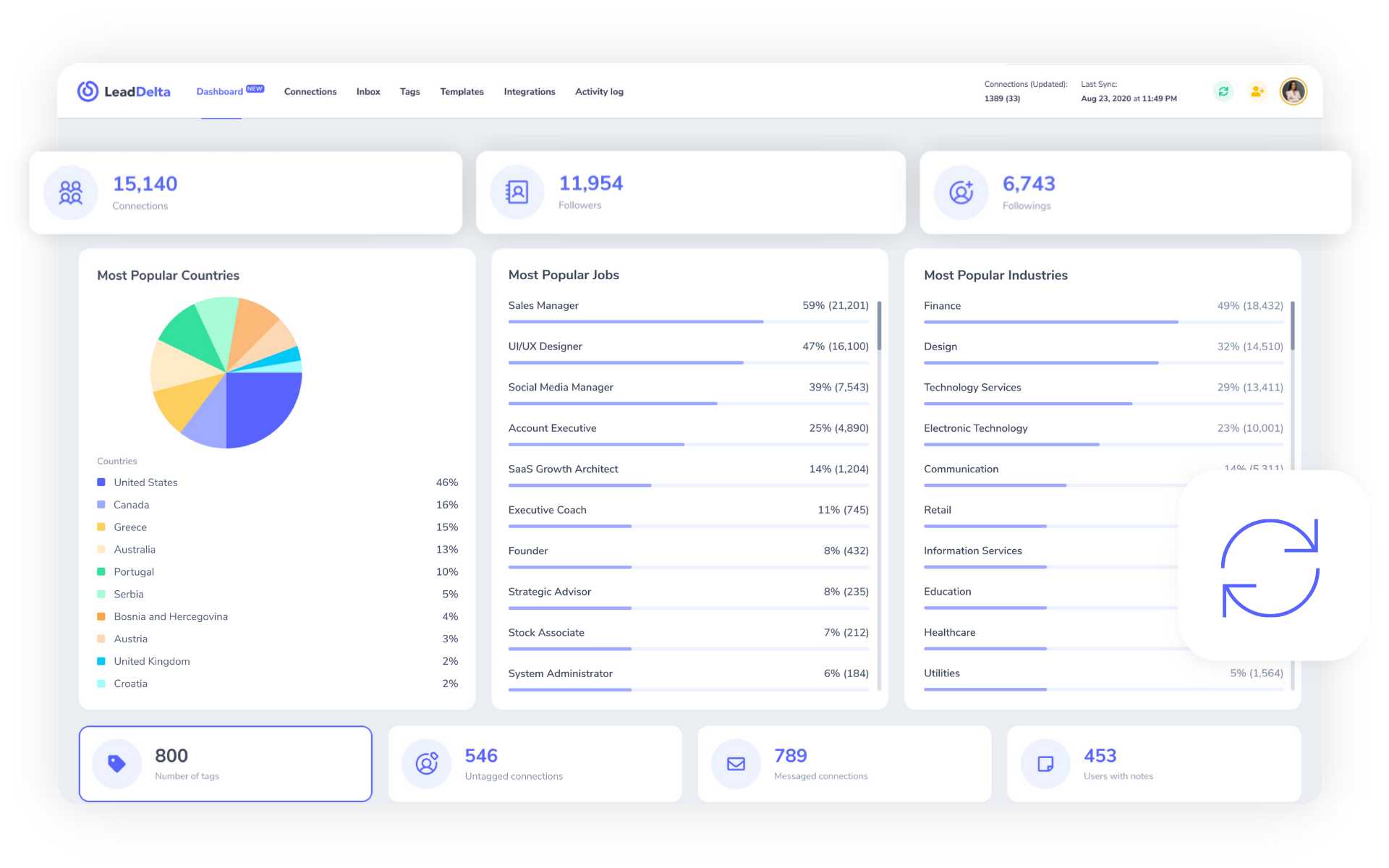 Top Section:
Number of Connections - The number of your 1st-degree connections on LinkedIn.
Number of Followers - The number of people who follow you on LinkedIn.
Number of Following - The number of profiles you follow, including pending LinkedIn requests, pages, and newsletters.

Chart and Bar Section:
Most Popular Countries - a simple pie chart with a progress bar with the percentage of each country of your connections.
Most Popular Jobs - Progress bar with percentages of your connections with the most popular jobs listed.
Most Popular Industries - Progress bar with percentages of your connections with the most industries listed.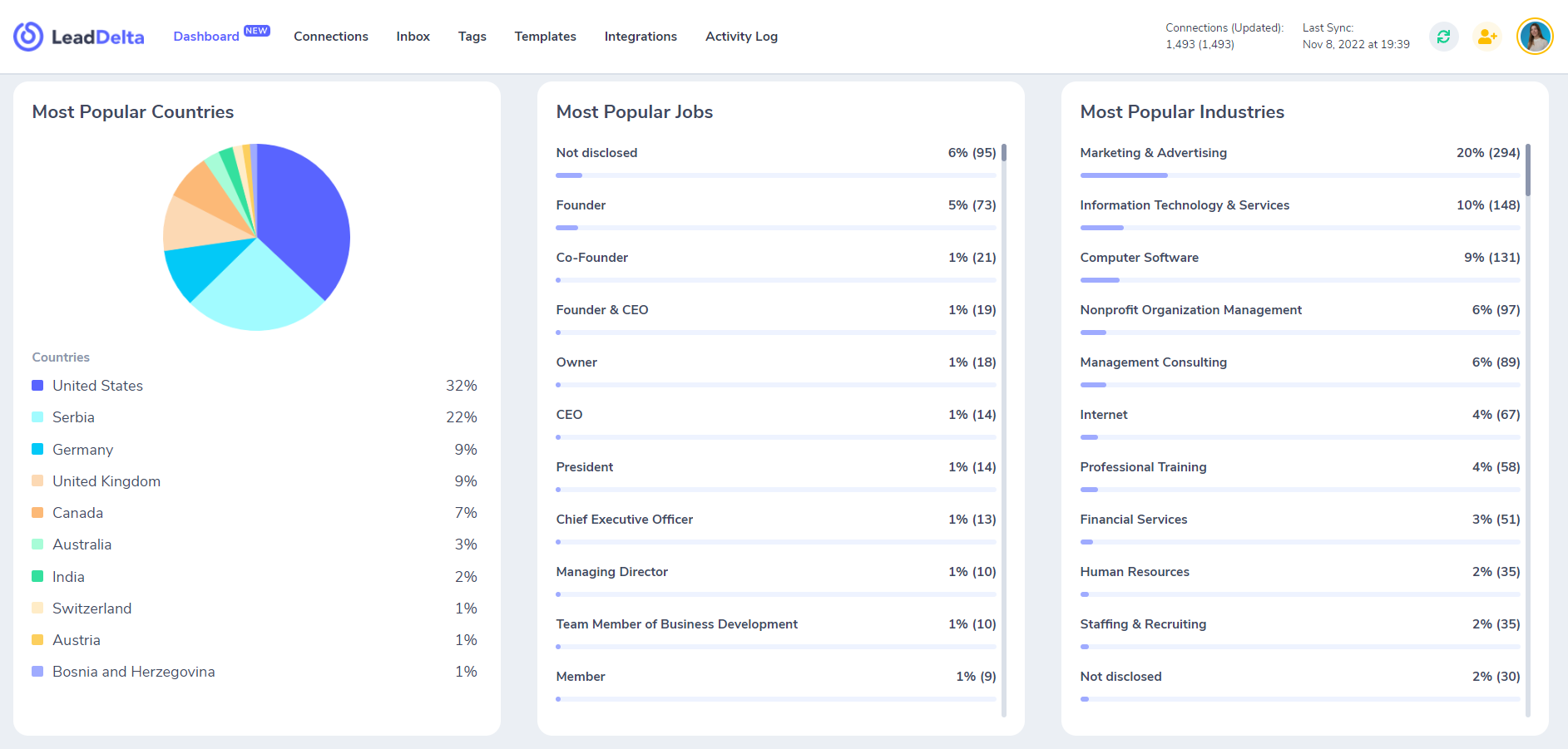 Bottom Section:
Number of Tags - The number of tags created directly linked to the Tags Tab.
Number of Untagged Connections - This number gives you a filtered view of untagged connections, which can signal you to people you might have missed.
Number of Messaged Connections - The number of conversations you have with your connections.
Number of Connections with Notes - The number of connections with notes. It gives you an insight into how proactively you keep data about your connections.

Connections
Connections tab is the main page of your LeadDelta account.
After the initial sync, all your connections will be presented on this page, and once the update is fully done you will be able to see additional information, such as Company, Email address, Phone number.
Connections tab is built out of multiple different actions and we will dive into each one separately. Let's get started:
Sidebar
Having all the information at a glance while working on a specific set of connections or connections is vital for managing relationships. That's why we introduced Sidebars, your window into connections.
There are three different Sidebars: Dashboard, Inbox, and LinkedIn Sidebars.
Dashboard Sidebar - Is located in the main connections tab and can be opened on the right when clicking on a specific connection.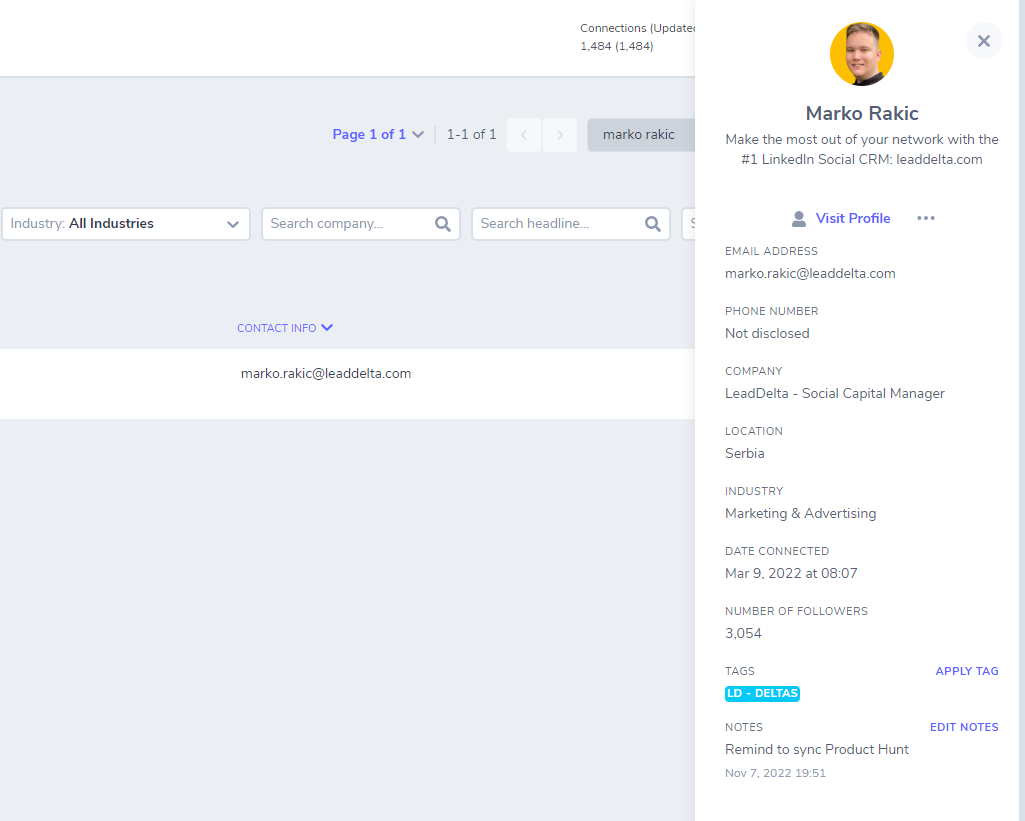 Inbox Sidebar - Directly in the Inbox, click on the two arrows while in the chat, and the sidebar will open on the right, giving you all the info at once.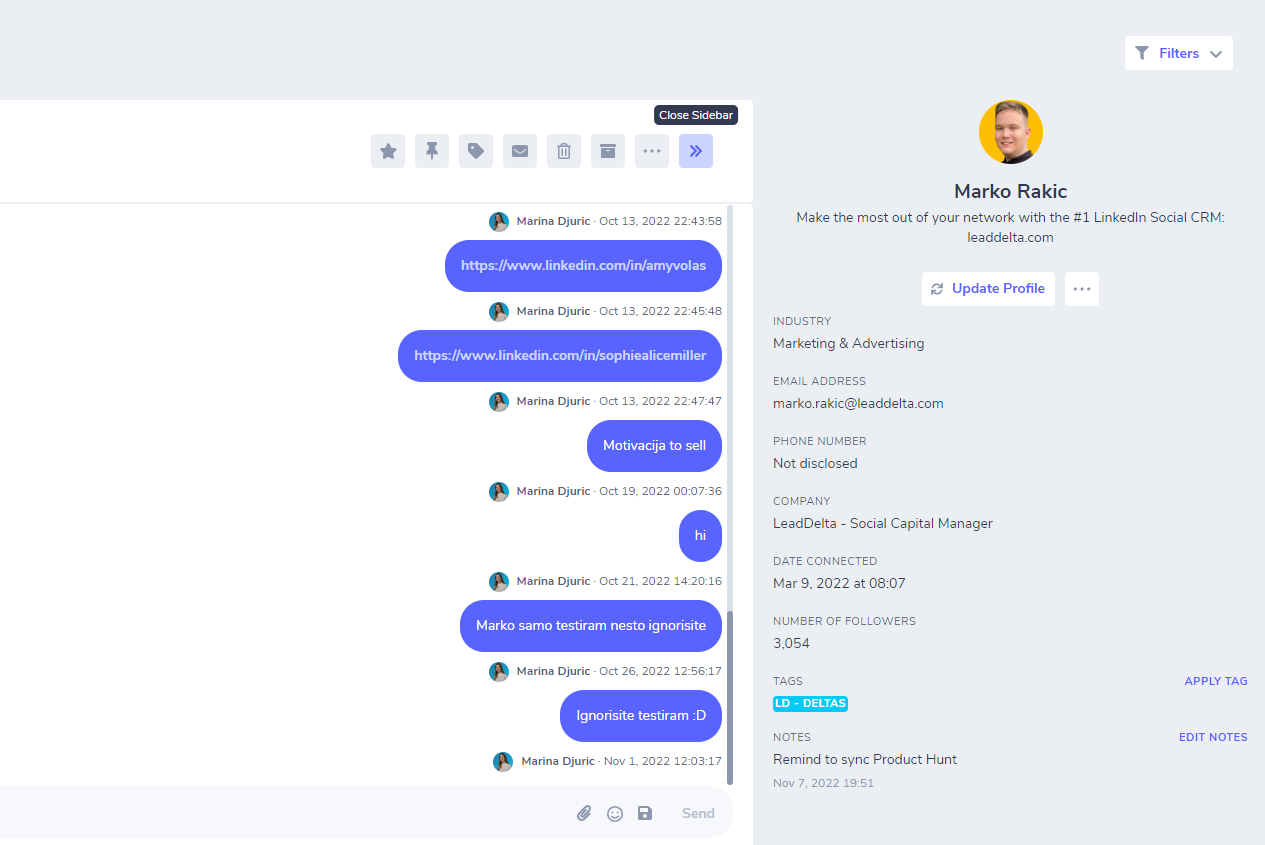 LinkedIn Profile Sidebar - While browsing and visiting profiles of your 1st-degree connections on LinkedIn, the sidebar will open automatically on the right giving you info and the option to tag and write notes on the spot.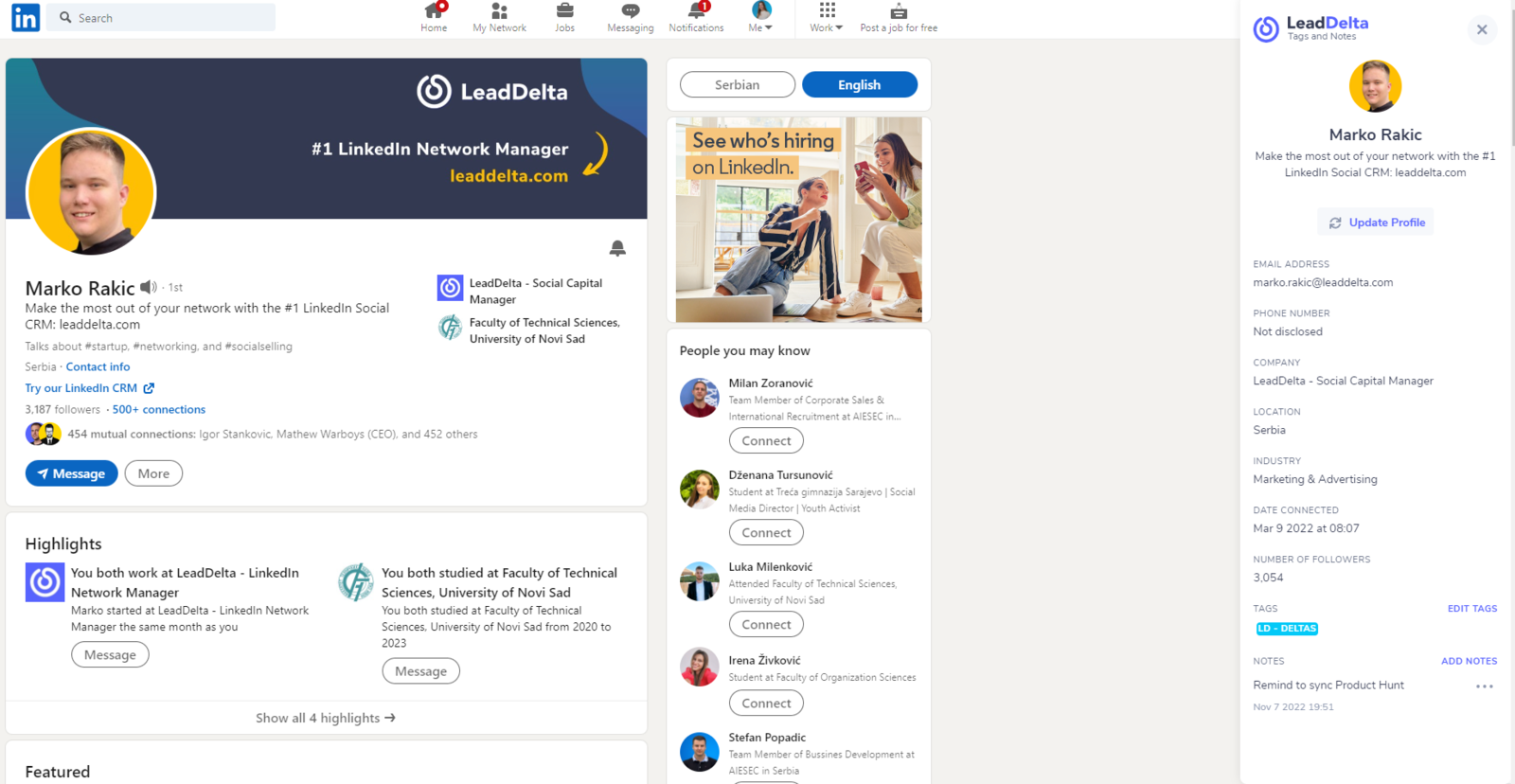 Actions
Decide which columns you want to have presented on the page. In case you don't wish to see certain columns, or you need to see all of them, you can easily manage your overview.
All your connections are sorted by the connection date and you can see 50 connections per page by default. However, you can easily change this depending on your needs. Sorting can be done alphabetically or by the date of connecting.
Changing the number of connections per page (pagination) can be especially useful if you want to message your connections in bulk.
You can search your connections by First or Last Name, and by Company, Headline and Job Title, and Location within filters. Please keep in mind that, for now, the search is based on the keyword, so all connections that contain a certain term will be presented on the page.
Finding the right connection(s) is super easy with LeadDelta's filters. LeadDelta currently offers 12 different filters and more to come.
To perform any of the bulk actions, you need to select a connection(s) first. It can be done before or after the filters are applied depending on the desired outcome. Before you run another query, make sure to unselect previously selected connections.
Once you select desired connections, you can:
Export a .CSV file with all relevant data. At that point, you can choose whether you want to have tags and/or notes presented in the file.
Tag single or multiple connections. Once you click on the Apply Tag button, you can choose one of the tags you've already created or type in the name for the new tag creation.
Remove the tag from single or multiple connections by clicking on the remove tag button and searching for the tag you want to remove.
Send a message to single or multiple connections in bulk. Please keep in mind that, to keep your LI account safe and to prevent restrictions, there is a limit for bulk message action, and it is set to 25 connections at once. Changing the pagination on the page will make this process easier.
Best-case practices:
If you are already sending the maximum amount of personalized messages at scale per day to your connections
do personalize it with the first name;

do not overdo it. Especially if you don't usually send more than a few messages a day;

do not include an URL if you are sending to more than 5 connections. Instead, ask a question "Would you like to ___?"

LinkedIn doesn't like when you send the same URL that sends users off of LinkedIn.
Keep your connections organized by adding a note to connections. Once added, the note can be edited or deleted.
Keep your connections list clean by hiding single or multiple connections from your home page. Hide action can be reverted at any point. Even if you hide someone from the home page, you can still find those connections by using filters.
By connecting with someone on LinkedIn, you're following them by default.
When you follow someone, new content posted or shared by the person will be displayed in your feed.
If you no longer wish to see their content, you can always unfollow that person. If you change your mind later on, you can find those connections using filters and revert the action.
Please keep in mind that following/ unfollowing too many connections in a short period of time can lead to bad consequences, such as LinkedIn restriction.
Going through your connections you'll soon realize that you don't want/ need to be connected with someone anymore. At that point, you can disconnect single or multiple connections by clicking on the disconnect/ remove button. The disconnect option will remove the connection from your LinkedIn account, at that point, you will see the disconnected tag next to the connection.
The remove option will remove the connection from your LeadDelta account only. You can use both options if you want to permanently remove the connection.
Please keep in mind that disconnecting from too many connections in a short time can lead to bad consequences, such as LinkedIn restriction.
The number of connections you can disconnect will depend on your current LinkedIn usage. However, since the limit for bulk removal is set to 25 we don't recommend removing more than 50 connections per day.
If you wish to visit someone's profile, you can easily navigate to the More menu next to the connections name and find the visit profile button. Please keep in mind that visiting too many profiles in a short time can lead to bad consequences, such as LinkedIn restriction.
Tags
What is the better way to speed up your workflow and manage your connections more effortlessly than labeling them?
Tag is a label that you can apply to your connections for identification, better organization and categorization, and for improving the efficiency of your sales and marketing process.
With Tags you can:
Segment connections or create groups of connections, for example, "Attended TradeShow A" or "Met at the Conference B"
Keep track of communication with connections. You can add a tag, for example, "Don't contact again" or "Get in touch in a month!"
Create a list of connections split into group A and group B so that you can keep track of who is receiving what message.
Focus on the meaningful relationship with your connections by labeling the ones you care about.
Manage your connections using filters and search your contacts by tags.

Tags can be customized as much as you want based on the information you have about each connection and your use case.
Navigate to the Tags tab in the top navigation bar:
Add New Tag- Highlight each tag in a different color, or create a different coloring scheme with hex codes.
Manage Tags- At any point edit or delete the tags you've created.
Default Tags- Every new connection that you import into the system will be labeled with the "New Connection" tag for 7 days, this will help you keep your latest connections organized before you're ready to apply your tag.
If you disconnect the connection inside LeadDelta, the system will apply the "Disconnected" tag, and it will remain for as long as you have that connection in the system.
You can view a complete list of tags that you've created and the number of
connections each tag is applied to.
Once you've added tags to connections, you can filter them out by one or more tags to list only the contacts tagged with the selected tags.
Templates
The hardest part about building a relationship with your connections is sending them a message.
Do you like spending time writing very similar messages over and over again? Most people would say no to that question, and that's why Templates are so important. Not only that you can save the converting message to keep refining and improving it over time, but not having to repeatedly type out the same message is a huge time and productivity saver.
A template is essentially a prewritten message that you can use to communicate with your connections easily. Depending on the receiver, you can personalize each template, and the end goal is to keep working on the verbiage until your messages stand out and keep bringing conversations.
Navigate to the Templates tab in the top navigation bar: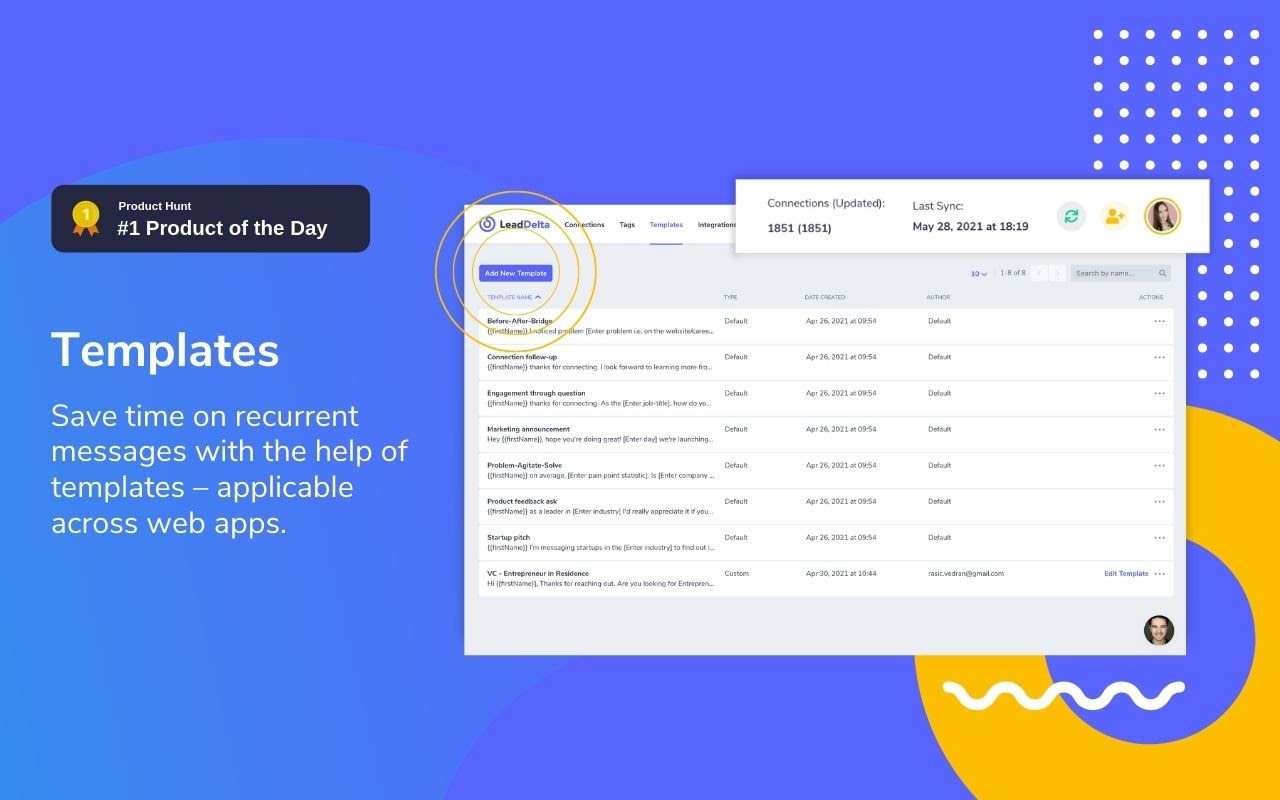 Add New Template- Create your message and use the dynamic fields (First and Last Name) to personalize the message.
Manage Templates- At any point, delete or edit the templates you've created.
Default Templates- The list of templates written by LeadDelta experts for the most common outreach. Those templates can't be deleted.
Inbox
Many of our users wanted to have an easy way to work on nurturing their connections and being able to see prior communication is one of the key elements.
Having to navigate between LeadDelta and LI Inbox can be a cumbersome and challenging task. They needed a place where they could see and read all prior conversations, reply when needed and keep the conversations organized.

So we brought your LinkedIn Inbox to LeadDelta. Think about this as the central hub for your LI messages.
Navigate to the Inbox section in the top navigation bar.
Find out more about the technical aspects of the Inbox section here.
Integrations
In today's world with all the different tools and apps you're using, it's hard to keep everything organized and streamline your workflow. If you're aiming to work smarter not harder, it's essential to employ different automation and create an easy way for your tech-stack to communicate in both directions.
The starting point for each integration is to generate the API key.
The API key allows you to connect LeadDelta with another tool you are using in a very direct way. The API key often constitutes both a unique identifier and a unique token for the authentication.
Currently, you can integrate your LeadDelta account with another one using:
(Check out the best ways to use LeadDelta + Zapier integrations)
Activity Log
Last but not least is the activity log.
Each activity you performed inside LeadDelta will be logged as a new entry in the Activity log.
This section is a written record of all your actions. The goal is to understand whether those actions help you meet important objectives.
In case you're experiencing any issue with your LeadDelta account, and you need to reach out to our support, the activity log will give us better insights into the steps you have taken that possibly led to an issue.
STEP 3
Have questions? Reach out to your point of contact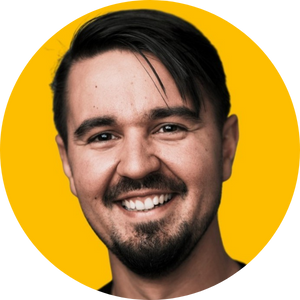 Vedran Rasic- Founder
Ved is our Chief Delta passionate about growth, people, and products. Ved is in charge of all sales/billing inquiries and can be easily reached at ved@leaddelta.com.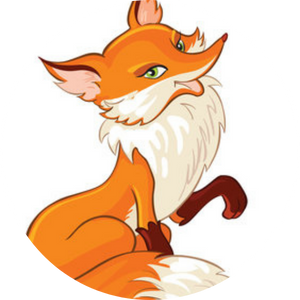 Ellen (the) Fox- Customer Experience
Ellen is not a bot, au contraire, but she loves to build a mystery around her. She is our know-it-all, passionate about customer experience, success, and growth. Ellen is in charge of CX and can be easily reached at support@leaddelta.com or via live chat inside the extension.
DIDN'T FIND WHAT YOU WERE LOOKING FOR?
Schedule a call
NEW: FREE EBOOK
13 Tactics to Monetize Your LinkedIn Network in 2023
Identify the growth opportunities LinkedIn provides, along with clear actions you can take to generate more revenue in 2023.